2021 D67 Online Annual Conference 線上年度大會
Updated Date: 2021-02-24
各位中華民國演講協會分會會長、副會長、總會幹部,大家早安!
Dear Club presidents, Vice Presidents, District officers, Good Morning!
2020-2021 年度的全國年會改為線上辦理。
2020-2021 Annual conference will be Online.
一丶原因説明
(1)疫情不確定因素。會影響參加會員意願,達到550人收支平衡目標。
(2)無論延期或縮小規模,不可控之因素也存在。
(3)目前即將進入四籌,會一直有支出項目產生,目前僅有3024元的經費產生。
Reasons are as follows,
1. The uncertainty of the pandemic, Covid-19, did affect the willingness of members' participation to achieve the budget balance, which is 550 people attendance.
2. Either we postpone the conference or have a smaller size, we still face the uncertainty. Not knowing the future situation.
3. Now we are about to have the 4th conference preparation meeting, and the cost will be increasing sharply. Now we only have spent 3024NT. 
二丶辦理方式:
(1)4/16(五)晚上辦理線上執委會、會員代表大會、協會理事會議,並選出下一屆的總會幹部。
(2)4/17(六)上午開幕典禮+專題演講 2013年世界冠軍Pres Vasilev +線上英語(Mike Honda)+台語(陳麗紅)
(3)4/17(六)下午線上國語(李海碩)日語(津山香織)+專題演講 TEDx Davis Nguyen+閉幕頒獎
P.S.#1 同時直播 (同時直播 (只有第一專題演講沒有直播)。
P.S.#2 4/17(六)上午 和 下午 英語專題演講 將提供中文口譯
How will we conduct the conference online?
1. On April 16, Friday night, we will have online TMs council meeting, online member representatives TMs meeting and online association TMs meeting.
2. On April 17, Opening ceremony +Keynote International speaker +English Educational Training by Mike Honda +Taiwanese Educational Training by LiHong Chen. (morning)
3. On April 17, Chinese Educational Training by Haishuo Lee_+ Japanese Educational Training by ChinShan ShanZie.
P.S.#1 Live Streaming will be provided for all sessions except the keynote speech by World Champion Pres Vasilev. 
P.S. #2 Chinese interpretation will be provided for the 4/17 morning & afternoon English keynote speeches.
三丶優點:
(1)不用花錢,在家或有網路的地方一起參加年會,免去舟車勞頓。
(2)若是疫情趨緩,可以找一地方同分會、同分區、同分部、甚至聯合幾部一起共螢幕一起來參加年會。
(3) 開會和訓練時間分開,讓會員可以享受教育訓練所有課程。也可以廣邀親朋好友來賓,一起線上參加台灣年會。
Advantages:
1. No cost needed. Enjoy the conference without the trouble of transportation, just need the stable wifi connection.
2. If the pandemic gets better, you can still find a place to get together with your clubs, areas, divisions and even unite some divisions to share a big screen. 
3. Separating the meetings and trainings enables members to enjoy all the training courses. Meanwhile, it's a good chance to invite friends, families and guest to join Taiwan's annual conference.
四、目標:
(1)一起營造線上學習歡樂丶互動氣氛。鼓勵會員一起上線向大師學習,和會友歡聚。
(2)目標參加人數可以500人。
Objectives:
1. Let's create a cheerful, interactive atmosphere online. Encourage members to learn from masters and get together with TMs fellows.
2. Target participants is 500. 
用歡樂及期待的心,期待第一個線上年會喔!
Let's prepare a joyful mind, expecting our very first online annual conference!
Written by PQD Doris Kuo, DTM 課程品質執行長郭麗琴撰寫 Updated by Simone Nash, DTM, 2021 D67 Online Annual Conference Manager 2021 年度大會主席吳慧妮更新 2021/2/23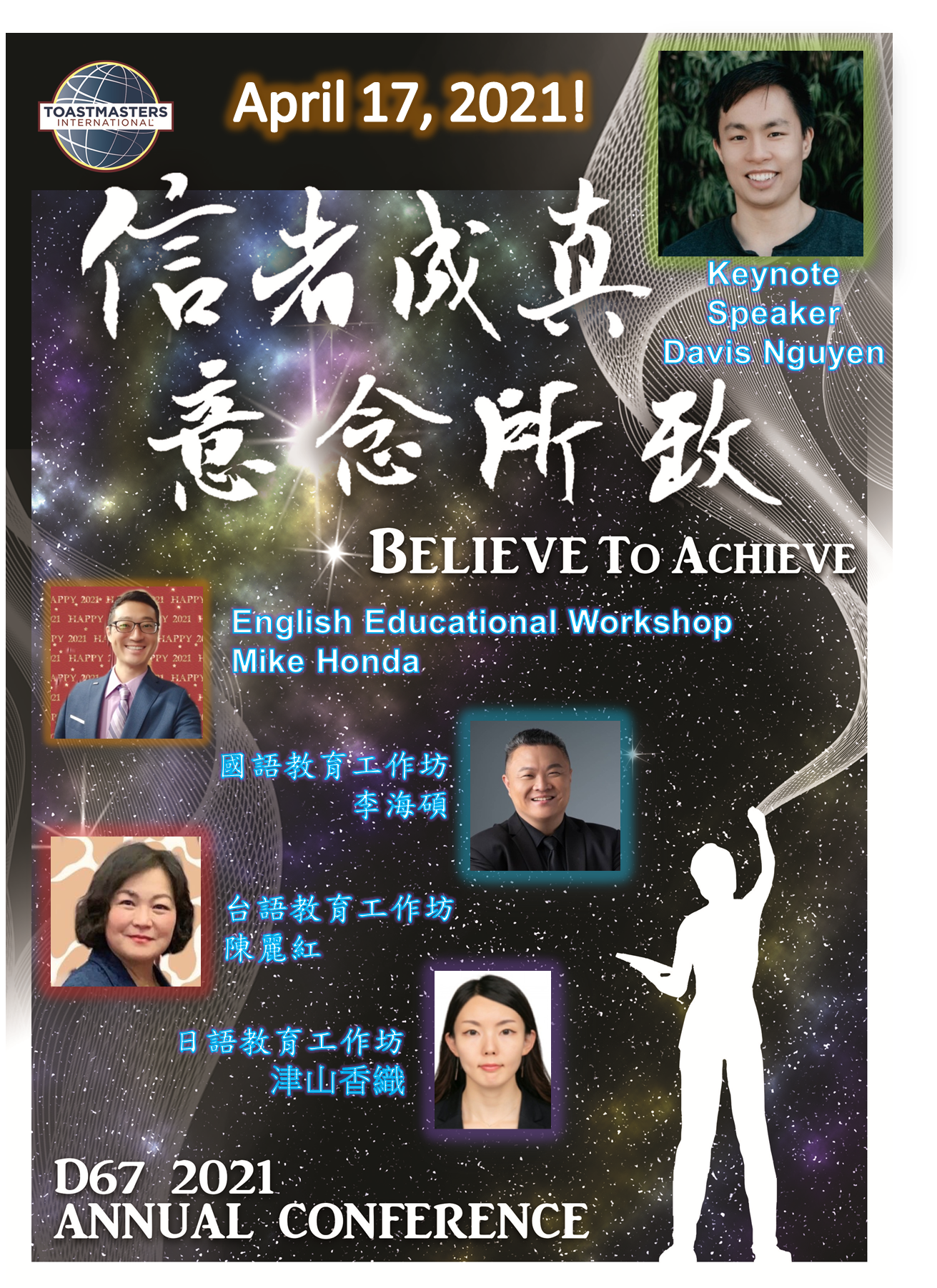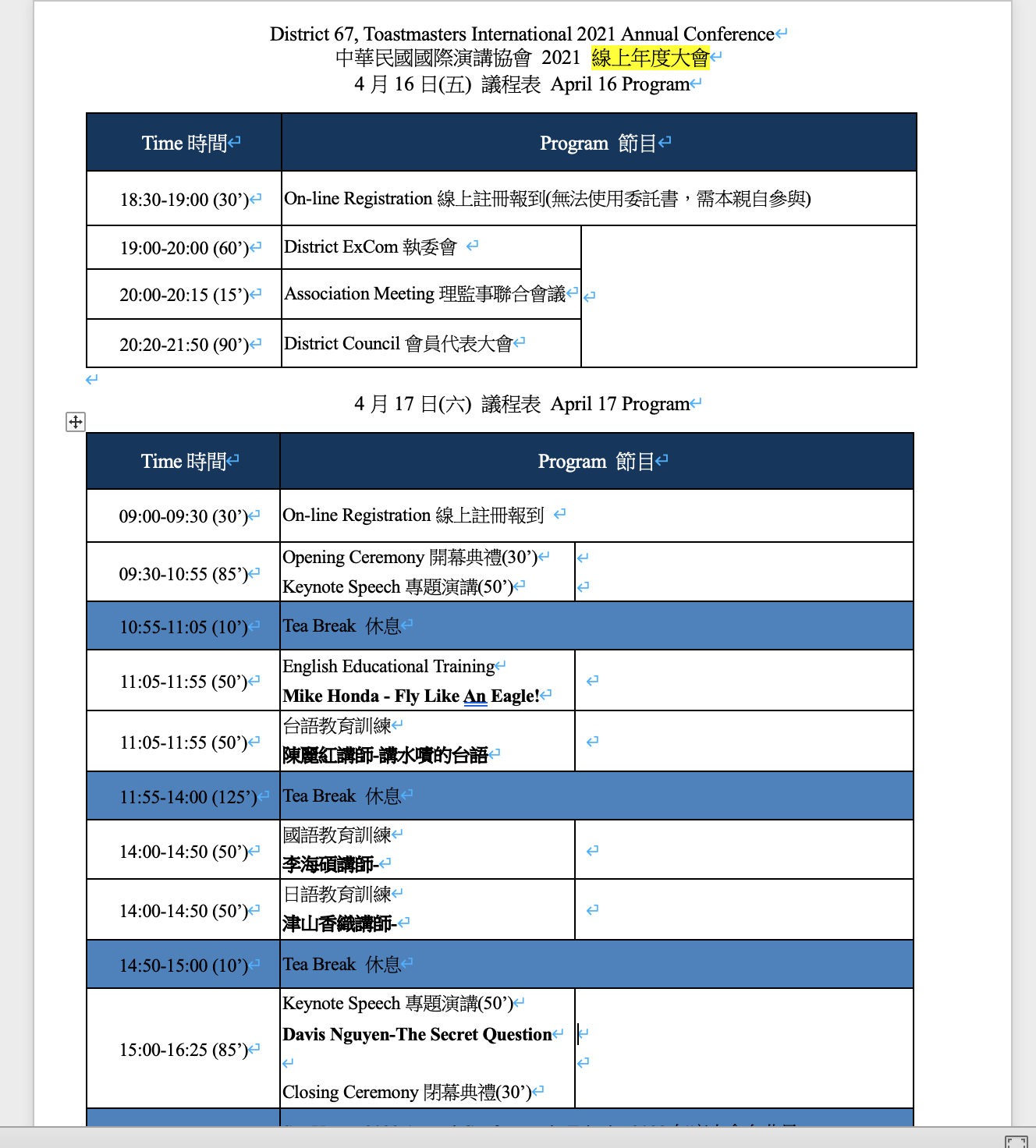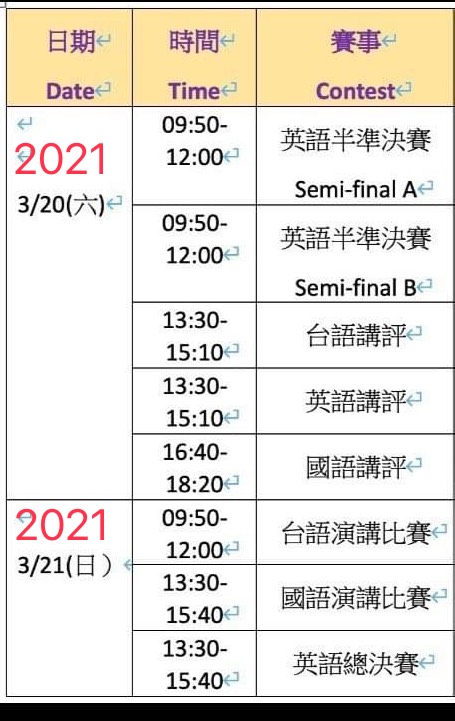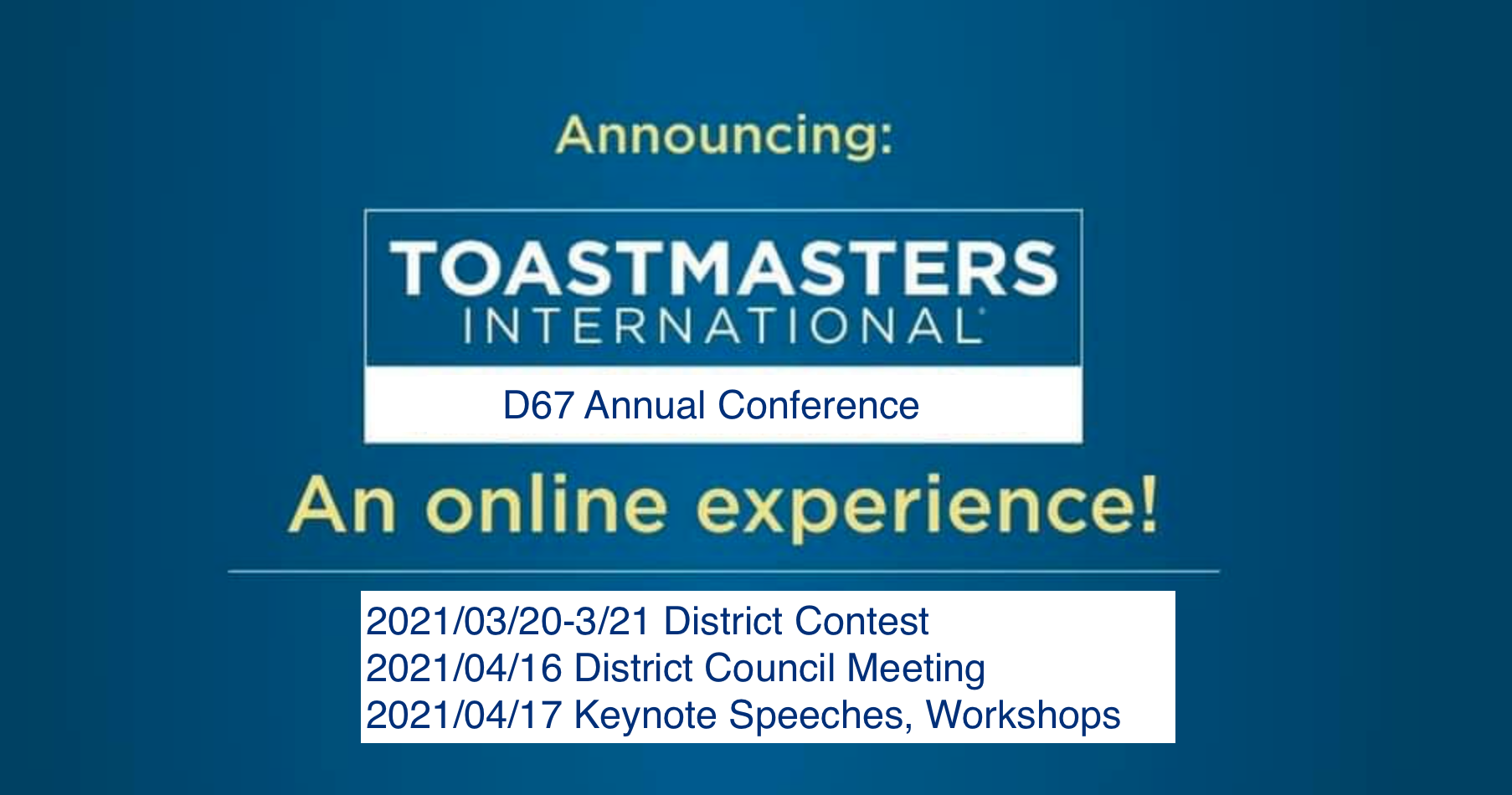 ---