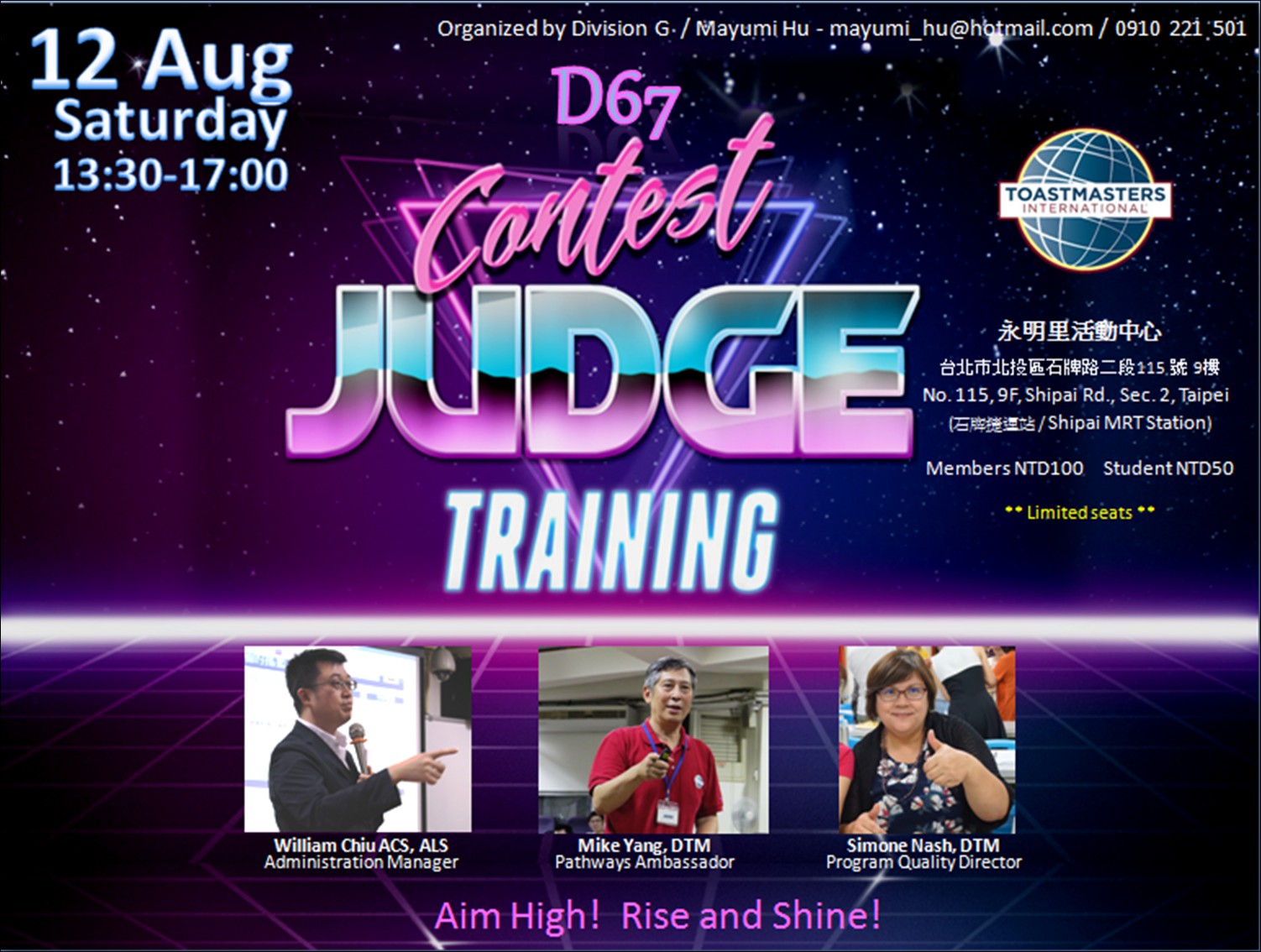 WHAT MAKE A GOOD JUDGE? 如何成為好裁判?
According to Toastmasters International a qualified judge needs to be:
根據國際Toastmasters International,有資格的裁判需要:
•Accurate: judges need to make accurate decisions and give awards to the contestants who deserve them
•準確:裁判需要作出準確的決定,並給予獎勵給值得讚揚的參賽者
•Fair: judges need to be impartial and in complexion when making their decisions
•公平:裁判在作出決定時需要公正並且保持其信念
•Trustworthy: judges need to keep results confidential
•值得信賴:裁判需要保密結果
•Knowledgeable: a judge must be knowledgeable about public speaking.
•博學:裁判必須了解公開演講。
•Good listener: a judge is there to listen to speeches after all.
•良好聽眾:裁判要聽完全程演講。
Division G has invited three outstanding Toastmasters and DTMs to help us understand the art and principles of being a Judge and the rules to follow when hosting a contest.
G部門邀請了三位優秀的Toastmasters和DTM,幫助我們了解作為裁判的藝術和原則以及舉辦比賽時需要遵循的規則。
The training program will have three parts: 訓練計劃有三個部分:
- Introduction to contest officials and judge - 比賽幹部與裁判介紹
- Judging criteria - 判斷標準
- Case study and practice - 案例研究與實踐
請在下面註冊 / Please, sign up below