A NEW CLUB IS BORN: NTHU Toastmasters
Posted Date: 2018-02-07
NTHU Toastmasters was established on Oct. 2017 with 25 new members beating all
odds, with the ambitious goal of becoming "the most fun, enlightening, innovative club in
NTHU and later district 67. Our regular meeting has seen an average of 25 members, that is
the unfathomable reason that the students needed to have NTHU Toastmasters to learn more.
We have attracted creative and ambitious members who are willing to accept challenges.
These enthusiastic members are always bringing new and innovative ideas to the table. We
all benefit from these ideas. We ensure that everyone live by the Toastmasters international
mission and our own club audacious goal.
We are in complete alliance with the Toastmasters International mission to get members to
step out of their comfort zones, cultivating leadership skills, and overcoming stage fright. The
ability of communicating in English with ease is a necessary skill not to mention in this era of
globalization. In our regular meeting, we can "listen" to speeches from others, we can "talk"
about our own ideas and thoughts. After finishing delivering a speech, you will get
constructive and concrete feedback from other members, which help you improve and grow
confidence.
Aside from having regular meetings, the club also arranges outings and parties, to provide
chances of meeting friends and people from diverse background. We have visited Google
headquarters, Taipei and we did learn a lot! we all remember what the vice general manager
said, "being good at coding can get you in Google, but being good at communicating will take
you high up in the organization", emphasizing the importance of communication once again!
Besides, we held a fantastic Christmas party in NTHU, attracting members or even nonmembers
to participate in, which reinforced the friendship among people from different
backgrounds If you are willing to know friends from various fields, embrace challenges, love
to listen and share, you're welcome to join NTHU Toastmasters! We're all imperfect, but we
are eager and passionate to train, to cultivate ourselves being a better person. You will
definitely benefit from joining us!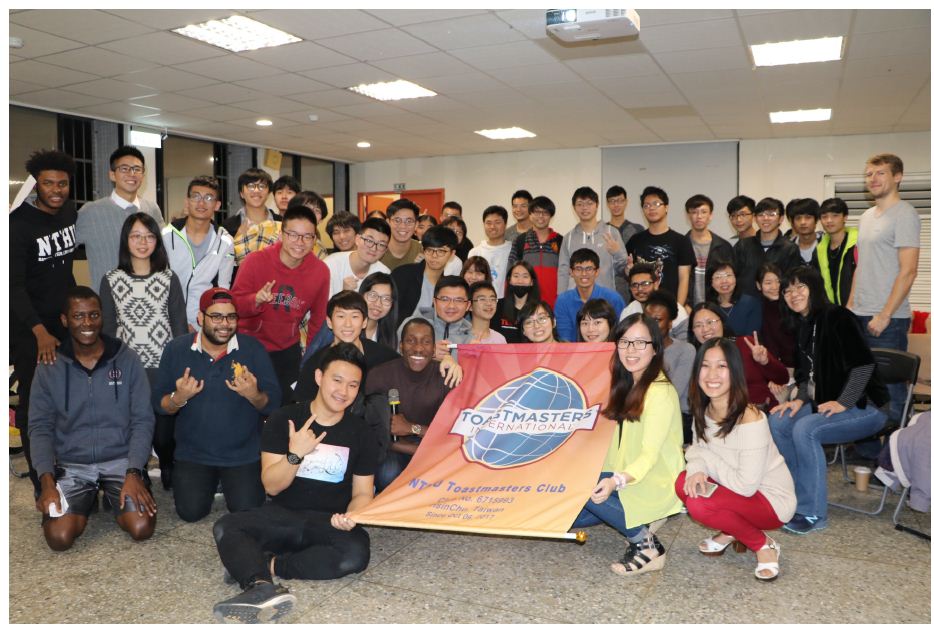 清大國際英語演講社在2017 年十月成立,我們將社團定義為"在清大最有趣、最具啟
發性、最具創造性的社團"。NTHUTM 由一群對生活充滿熱情與喜愛接受挑戰的社員組
成~也因為有一群熱情且富有創造力的社員, 總是有許多想法之間的碰撞,社團展現
出了高多元性!社員也得以彼此互相學習效仿!
我們的宗旨在於幫助社員走出舒適圈,培養未來人才所需的能力。如精進溝通技巧,
英語聽說能力,克服舞台恐懼,自信心與領導力的養成。"英語溝通技巧"是不可或
缺的重要能力之一,亦是與世界接軌的媒介。藉由每次社課,社員得已"聽"其他社
員的演講或發表,從中汲取好的語句,或參考他人演講的架構,來精進自己的演講力。
得已在舞台上"說"出自己的故事與想法並練習組織演講與口條,最後,評論者也能
給予演講者正向的回饋與建議,因此慢慢懂得在舞台上表演,準確地傳達信息給聽眾!
除了日常的聚會以外,社團也會不定期安排社遊與party,如我們曾拜訪過台灣Google
總部,經過部門的副總經理講解:"會打程式可以讓你進入Google,但如果不會溝通就
不能夠往上升遷",再次提醒我們表達溝通的重要性!那次社遊可謂有玩也有學!我們
也在清華大學舉辦了一場聖誕派對!在派對上不同背景不同國籍的朋友可以互相尬舞
喝酒 ~加深社社員之間的友誼!
如果你喜歡認識來自不同背景的朋友,喜歡接受挑戰,喜歡聆聽與分享,歡迎加入清
大國際英語演講社這個大家庭!我們都不完美,但我們有著明確的目標努力栽培自己!
你/妳 也一定會有所收穫!
---